Are you planning a visit to the Bank Negara Malaysia Museum and Art Gallery? If so, you'll want to find the best hotels in the area to ensure a comfortable stay. This article will guide you through the process of selecting the ideal accommodation, provide recommendations for top-rated hotels, and offer tips on making the most of your stay.
Understanding the Location: Bank Negara Malaysia Museum and Art Gallery
The Bank Negara Malaysia Museum and Art Gallery is located in the heart of Kuala Lumpur, Malaysia's capital city. This cultural institution serves as a platform to showcase the nation's history, culture, and art. Visitors can explore various exhibits that highlight the country's financial and banking heritage, as well as discover a remarkable collection of local and international artworks.
As you step into the Bank Negara Malaysia Museum and Art Gallery, you will be transported back in time to the early days of Malaysia's banking industry. The museum's architecture itself is a testament to the country's rich heritage, with its grand columns and intricate detailing. Inside, you will find a wealth of information and artifacts that tell the story of Malaysia's financial development.
One of the main attractions of the museum is the exhibition on the history of currency in Malaysia. Here, you can see the evolution of money, from ancient coins and barter systems to the modern banknotes and electronic transactions we use today. The display includes rare and valuable currency notes, providing a fascinating glimpse into the economic progress of the nation.
The Significance of the Museum and Art Gallery
The museum's mission is to preserve and promote Malaysia's cultural heritage while fostering an appreciation for art. With its vast collection of artifacts, historical documents, and artwork, the Bank Negara Malaysia Museum and Art Gallery provides visitors with a unique opportunity to delve into the country's rich history and culture.
One of the highlights of the museum is the art gallery, which showcases a diverse range of artworks from both local and international artists. From traditional paintings and sculptures to contemporary installations, the gallery offers a comprehensive view of Malaysia's art scene. As you wander through the gallery, you will be captivated by the creativity and talent of the artists, each piece telling a unique story.
In addition to its permanent collection, the museum also hosts temporary exhibitions that explore various themes and artistic movements. These exhibitions provide a dynamic and ever-changing experience for visitors, ensuring that there is always something new to discover with each visit.
Accessibility and Surrounding Attractions
The museum is conveniently located within the city center, making it easily accessible by public transportation. Whether you choose to take the train, bus, or taxi, you will have no trouble reaching this cultural gem. The museum is also wheelchair accessible, ensuring that everyone can enjoy its offerings.
Once you have explored the Bank Negara Malaysia Museum and Art Gallery, you may want to take some time to explore the surrounding attractions. Just a short walk away, you will find the iconic Petronas Twin Towers, a symbol of Malaysia's modernity and progress. These towering structures offer breathtaking views of the city and house a multitude of shopping and dining options.
If you're in need of some fresh air and greenery, head over to KLCC Park, located adjacent to the Petronas Twin Towers. This beautifully landscaped park offers a tranquil escape from the bustling city, with its lush gardens, jogging tracks, and children's playgrounds. Take a leisurely stroll or simply find a quiet spot to relax and soak in the serene atmosphere.
Another nearby attraction is Merdeka Square, a historic landmark that holds great significance for Malaysia. This vast open space was the site of the country's declaration of independence in 1957. Today, it serves as a venue for national celebrations and events. Take a walk around the square and admire the colonial-era buildings that surround it, including the Sultan Abdul Samad Building, which is a stunning example of Moorish architecture.
As you can see, a visit to the Bank Negara Malaysia Museum and Art Gallery is not only an opportunity to learn about the country's financial history and appreciate its art, but also a chance to immerse yourself in the vibrant city of Kuala Lumpur. So, plan your visit today and embark on a journey of discovery and exploration.
Criteria for Selecting the Best Hotels
When choosing a hotel near the Bank Negara Malaysia Museum and Art Gallery, consider the following factors:
Proximity to the Museum and Art Gallery
Having a hotel within close proximity to the museum allows you to save time on commuting and maximize your exploration hours. Look for accommodations that are a short walking distance or a quick ride away from the venue.
Hotel Amenities and Services
Check for the amenities and services offered by the hotels you are considering. Facilities such as swimming pools, fitness centers, and on-site restaurants can greatly enhance your stay. Moreover, exemplary services like concierge assistance and 24-hour reception can ensure your needs are met throughout your trip.
Price Range and Value for Money
Consider your budget when selecting a hotel. Look for options that offer a good balance between price and quality. Comparing prices, reading reviews, and checking for special offers will help you find the best value for your money.
Top-Rated Hotels Near Bank Negara Malaysia Museum and Art Gallery
Here are some top-rated hotels that offer comfortable accommodations near the museum:
Luxury Hotels for a Lavish Stay
If you're looking to indulge in luxury during your visit, consider staying at one of the upscale hotels nearby. These establishments boast elegant rooms, exceptional amenities, and impeccable service. Some notable luxury hotels include The Majestic Hotel Kuala Lumpur, The Ritz-Carlton Kuala Lumpur, and Villa Samadhi.
Budget-Friendly Hotels for Economical Travelers
Traveling on a budget doesn't mean compromising on comfort. There are several affordable hotels in the area that offer clean rooms, friendly service, and convenient amenities. Budget-friendly options include Hotel Malaysia, Hotel Soleil, and Leo Palace Hotel.
Family-Friendly Hotels with Convenient Facilities
If you're traveling with your family, it's important to find a hotel that caters to the needs of both adults and children. Look for hotels that offer spacious rooms, child-friendly amenities, and convenient facilities such as swimming pools and play areas. Family-friendly options near the museum include Swiss-Garden Hotel Kuala Lumpur, Cititel Mid Valley, and Capri by Fraser Kuala Lumpur.
Making the Most of Your Stay
Aside from visiting the Bank Negara Malaysia Museum and Art Gallery, there are several other activities you can enjoy during your stay:
Exploring Nearby Tourist Spots
Take advantage of your time in Kuala Lumpur to explore other nearby attractions. Visit the iconic Petronas Twin Towers for breathtaking views of the city, wander around Merdeka Square to soak in the history, or spend some leisure time at KLCC Park.
Sampling Local Cuisine
Kuala Lumpur is a melting pot of diverse cultures, and its culinary scene reflects this diversity. Don't miss the opportunity to savor mouthwatering local dishes such as nasi lemak, roti canai, and satay. Exploring the surrounding streets and famous food markets like Jalan Alor will expose you to a wide array of flavors and aromas.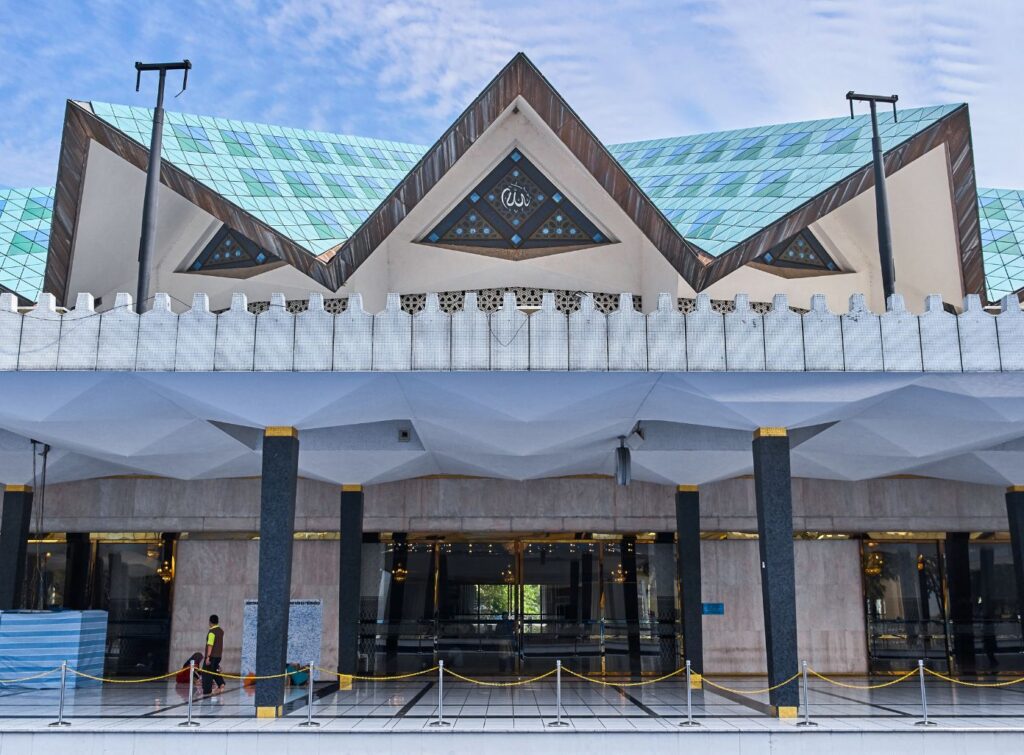 Shopping Opportunities in the Vicinity
The area around the Bank Negara Malaysia Museum and Art Gallery is known for its vibrant shopping districts. Indulge in a retail therapy session at popular shopping malls such as Pavilion Kuala Lumpur and Suria KLCC. These malls house a wide range of local and international brands, ensuring a delightful shopping experience.
By following these guidelines, you'll be able to find the best hotels near the Bank Negara Malaysia Museum and Art Gallery, making your visit to Kuala Lumpur both comfortable and memorable. Plan your stay wisely and take advantage of the surrounding attractions to enhance your overall experience. Enjoy your trip!