Putrajaya is a planned city located south of Kuala Lumpur, the capital of Malaysia. This futuristic city boasts of beautiful modern architecture, lush greenery, and rich cultural heritage. A visit here promises an awe-inspiring experience for travelers of all ages. So, if you're visiting Kuala Lumpur and have some time to spare, here are ten exciting things to do in Putrajaya:
Explore the Putrajaya Architectural Marvels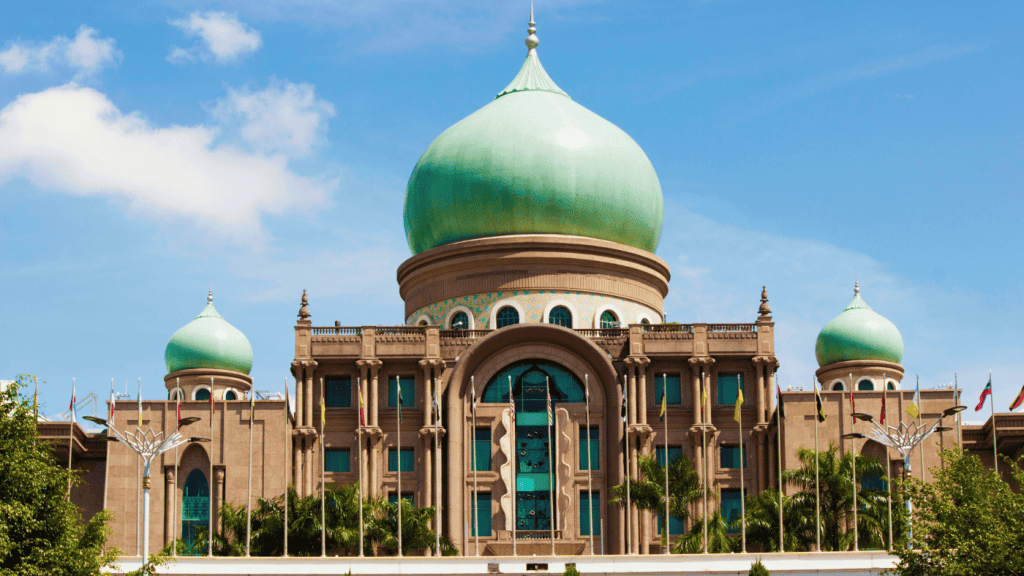 Putrajaya is a city that boasts of contemporary architectural gems, including iconic landmarks and stunning bridges. The city is a perfect place to visit for those who love modern architecture and design. The city has a lot to offer, and one of the must-visit places is the Perdana Putra, the Prime Minister's office.
Perdana Putra
The Perdana Putra is a grand building that showcases a blend of traditional Islamic and modern styles, making it an impressive sight to behold. The building has a beautiful blue color dome that is visible from a distance. The building houses the offices of the Prime Minister and his Deputy. Visitors are allowed to walk around the premises and marvel at the beautifully landscaped gardens. The gardens are well-manicured, and the trees are strategically placed to provide shade and a serene environment.
The building's architecture is a blend of Islamic and modern styles, and it is a perfect representation of Malaysia's cultural diversity. The building's interior is equally impressive, with well-crafted furniture and beautiful artwork. The building is a perfect place to learn about Malaysia's political history and its current political climate.
Putra Mosque
The Putra Mosque is another architectural gem that you can't miss while in Putrajaya. This stunning mosque stands out for its unique pink dome, making it one of the most beautiful mosques in Malaysia. The mosque can accommodate over 15,000 worshippers and offers guided tours for visitors.
The mosque's interior is equally impressive, with beautiful chandeliers and intricate patterns on the walls and floors. Visitors can learn about the mosque's history and the significance of its architecture. The mosque is a perfect place to learn about Islam and Malaysia's religious diversity.
Seri Wawasan Bridge
The Seri Wawasan Bridge is a magnificent sight to behold, and it links the city center with the rest of Putrajaya. The bridge's design is inspired by the Islamic symbol of a hibiscus flower, which is Malaysia's national flower. The beautifully lit bridge at night is a sight to behold.
The bridge is a perfect place to take a stroll and enjoy the breathtaking views of the city. The bridge's design is a perfect blend of modern and traditional styles, and it is a perfect representation of Malaysia's cultural diversity. Visitors can take pictures and learn about the bridge's history and significance.
In conclusion, Putrajaya is a city that boasts of contemporary architectural gems, and it is a perfect place to visit for those who love modern architecture and design. The city has a lot to offer, and visitors can learn about Malaysia's cultural diversity and political history. The Perdana Putra, Putra Mosque, and Seri Wawasan Bridge are some of the must-visit places in the city, and they offer a perfect blend of modern and traditional styles.
Immerse Yourself in Putrajaya Nature
Putrajaya is an eco-city that is committed to preserving its lush greenery. The city boasts of several parks and green spaces. Here are some of the best natural attractions you should visit:
Putrajaya Wetlands Park
If you're a nature lover, visiting the Putrajaya Wetlands Park is a must-do thing. The park is a sanctuary for various flora and fauna, including over 200 species of birds. Visitors can take a leisurely stroll on the boardwalk and enjoy a stunning view of the wetlands.
Taman Botani Putrajaya
Taman Botani Putrajaya is a sprawling park that covers over 90 hectares of land. The park features several themed gardens, including a palm garden, sun garden, and cactus garden. Visitors can also explore the tropical rainforest, complete with towering trees, and an observation tower offering panoramic views of Putrajaya.
Putrajaya Lake
The Putrajaya Lake is a man-made lake covering over 600 hectares. The lake provides a serene and peaceful environment for visitors to relax and unwind. You can take a leisurely boat ride and enjoy stunning views of the city's skyline and its iconic landmarks.
Discover Putrajaya Local Culture and History
Putrajaya is rich in cultural heritage, and visitors can explore its museums, monuments, and historical sites. Here are some of the places to visit:
Istana Melawati
The Istana Melawati is located on a hill and was once the official residence of the Malaysian King. The palace is now a museum showcasing various artifacts, including antique furniture, traditional costumes, and artwork.
Putrajaya International Convention Centre
The Putrajaya International Convention Centre is a magnificent structure that is worth a visit. The center hosts various meetings, conferences, and exhibitions throughout the year. Visitors can tour the center and take in its beautiful architecture.
Millennium Monument
The Millennium Monument is a unique structure that commemorates Malaysia's achievement in the 21st century. The monument features an abstract interpretation of the number 2000 and is surrounded by lush greenery and a beautiful fountain.
Indulge in Shopping and Dining Experiences
Putrajaya offers exciting shopping options and a wide range of dining experiences. Here are some of the best places to shop and eat:
Alamanda Shopping Centre
The Alamanda Shopping Centre is a popular shopping destination in Putrajaya. The mall features a wide range of international brands and local boutiques. Visitors can also enjoy various dining options at the mall's restaurants and cafes.
IOI City Mall
The IOI City Mall is an impressive shopping mall covering over 1.4 million square feet. The mall features various retail outlets and entertainment options, including a cinema and an indoor theme park. Visitors can also indulge in delicious food at the mall's food court or restaurants.
Local Street Food and Restaurants
Finally, if you want to experience local cuisine, Putrajaya's street food scene offers numerous options. Visitors can enjoy an array of delicacies, including satay, nasi pattaya, and roti canai. Several restaurants in Putrajaya serve authentic Malay cuisine, including seafood, rendang, and laksa.
While in Putrajaya, visitors can enjoy a wide range of activities, from exploring the city's impressive architecture to immersing themselves in its natural beauty. The city also offers exciting shopping and dining options, making it a perfect destination for travelers seeking a holistic experience. With so much to see and do, Putrajaya is undoubtedly worth a visit.