Welcome to Sunway Lagoon, the ultimate destination for thrill-seekers and adventure enthusiasts. Located in the bustling city of Kuala Lumpur, Malaysia, Sunway Lagoon offers a wide array of attractions and experiences that guarantee an adrenaline rush like no other. Whether you are a water park enthusiast, a nature lover, or a food connoisseur, Sunway Lagoon has something for everyone. Let's dive into this fun-filled adventure and explore all that Sunway Lagoon has to offer.
Introduction to Sunway Lagoon
Nestled in a sprawling 88-acre complex, Sunway Lagoon is a world-class theme park that has gained international acclaim since its opening in 1993. Boasting over 90 attractions spread across six themed zones, Sunway Lagoon is known for its thrilling rides, interactive wildlife encounters, and a diverse selection of dining and shopping options. It is truly a one-stop destination for an unforgettable day out with family and friends.
As you step into Sunway Lagoon, you will be greeted by a vibrant atmosphere filled with laughter and excitement. The park's meticulously designed layout ensures that there is something for everyone, from adrenaline junkies seeking heart-pounding thrills to nature enthusiasts looking to connect with wildlife.
Whether you are a daredevil ready to conquer the towering water slides or a family seeking a day of fun-filled activities, Sunway Lagoon promises to deliver an experience that will leave you with cherished memories for years to come.
The History of Sunway Lagoon
Before we dive into the exciting adventures that await, let's take a moment to appreciate the rich history behind Sunway Lagoon. Originally a tin mining quarry, this transformed theme park was developed by the Sunway Group, a Malaysian conglomerate. The careful restoration of the former mining site into a vibrant entertainment hub is a testament to Sunway Lagoon's commitment to preserving the country's heritage while providing world-class entertainment.
Immerse yourself in the history of Sunway Lagoon as you explore the park's various zones. Each zone is thoughtfully designed to reflect the heritage and culture of Malaysia, paying homage to the country's vibrant past. From the Lost City of Gold to the bustling streets of Wild Wild West, every corner of Sunway Lagoon tells a story, inviting visitors to embark on a journey through time.
Learn about the challenges faced during the transformation process and the meticulous attention to detail that went into recreating the park's iconic attractions. Marvel at the fusion of history and modernity as you witness the seamless integration of traditional elements with state-of-the-art technology.
Getting to Sunway Lagoon
Traveling to Sunway Lagoon is a breeze, thanks to its strategic location in the heart of Kuala Lumpur. Visitors can easily reach the park by car, public transportation, or via the convenient shuttle service provided by Sunway Lagoon. Located just 15 kilometers from Kuala Lumpur's city center, Sunway Lagoon is easily accessible for both local and international travelers.
As you make your way to Sunway Lagoon, take in the sights and sounds of Kuala Lumpur, a vibrant city that seamlessly blends modernity with tradition. Admire the iconic Petronas Twin Towers, stroll through the bustling streets of Chinatown, or indulge in the local cuisine at the nearby food stalls.
Upon arriving at Sunway Lagoon, you will be greeted by friendly staff who are eager to assist you with any queries or concerns. The park's commitment to excellent customer service ensures that your journey to Sunway Lagoon is as enjoyable and hassle-free as possible.
So, what are you waiting for? Embark on an adventure like no other and let Sunway Lagoon take you on a thrilling journey through time, culture, and endless fun!
The Thrilling Rides and Attractions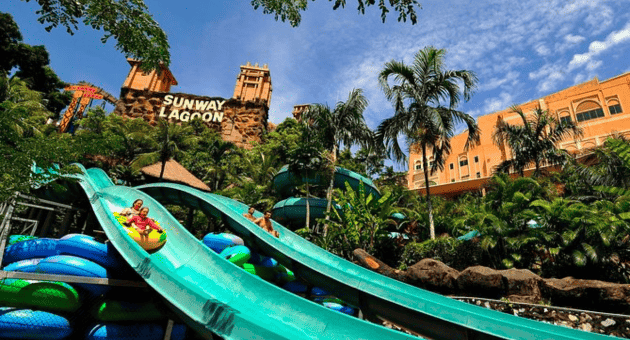 Get ready for an exhilarating adventure as we delve into the various themed zones of Sunway Lagoon.
Water Park Adventures
Cool off under the scorching Malaysian sun at the Water Park, where a multitude of exciting water slides, lazy rivers, and wave pools await. Whether you're looking for a heart-pounding adrenaline rush on the Vuvuzela or prefer a more relaxing ride on the Congo Challenge, the Water Park offers a wide range of attractions suitable for all ages and preferences.
Amusement Park Excitement
For those seeking classic amusement park thrills, the Amusement Park is the place to be. From spine-tingling roller coasters to family-friendly carousels, this zone guarantees non-stop excitement. Don't miss the chance to scream your lungs out on the world-renowned Pirate's Revenge or experience the twists and turns of the Grand Canyon Rapid Falls.
Wildlife Park Exploration
Take a break from the adrenaline-pumping rides and immerse yourself in the wonders of nature at the Wildlife Park. Home to over 150 species of exotic animals, including tigers, crocodiles, and pythons, this zone offers an educational experience like no other. Wander through the lush jungles, watch captivating animal shows, and even interact with some of the park's friendlier residents.
Dining Options in Sunway Lagoon
After an action-packed day of adventure, refuel your energy at one of the many dining establishments within Sunway Lagoon.
Local Delicacies to Try
Sample the vibrant flavors of Malaysia at the numerous local food stalls scattered throughout the park. Indulge in mouth-watering Nasi Lemak, a fragrant rice dish served with spicy sambal sauce, or savor the delightful Roti Canai, a flaky Indian flatbread typically accompanied by savory curry.
International Cuisine Options
If you're craving international flavors, fear not. Sunway Lagoon offers a variety of international cuisine options that cater to different palates. From delectable Italian pizzas to flavorful Japanese sushi, there's something to satisfy every craving.
Shopping Opportunities
Besides its thrilling rides and delicious food, Sunway Lagoon also offers a unique shopping experience.
Souvenir Shops to Visit
Take a piece of Sunway Lagoon home with you by browsing through the souvenir shops scattered around the park. From keychains and t-shirts to plush toys and magnets, these shops offer a wide range of memorabilia to commemorate your visit.
Local Crafts and Goods
Immerse yourself in Malaysian culture by exploring the local crafts and goods available for purchase. From intricately designed batik textiles to handcrafted jewellery, these unique items make for unforgettable souvenirs and gifts.
Tips for Visiting Sunway Lagoon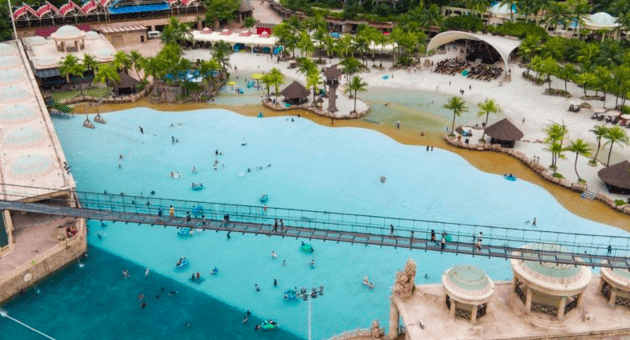 Before embarking on your Sunway Lagoon adventure, here are a few essential tips to ensure a smooth and enjoyable visit.
Best Times to Visit
To make the most of your visit, it's advisable to plan your trip during weekdays or non-peak periods. This will allow you to avoid large crowds and long queues, giving you more time to explore and enjoy the attractions.
Essential Items to Bring
Don't forget to pack some essentials for your day at Sunway Lagoon. Be sure to bring sunscreen, a hat, and comfortable shoes to protect yourself from the sun and enhance your overall experience. Additionally, bringing a refillable water bottle and a small backpack to carry your belongings will ensure you stay hydrated and organized throughout the day.
Embark on a thrilling journey at Sunway Lagoon and create memories that will last a lifetime. With its wide range of attractions, delicious food, and unique shopping experiences, Sunway Lagoon promises a fun-filled adventure for visitors of all ages. So, grab your swimsuit, put on your adventure hat, and get ready to experience the excitement that awaits you at Sunway Lagoon!