Looking for a unique travel destination in Southeast Asia that boasts a fusion of cultures, stunning natural beauty, and mouthwatering cuisine? Look no further than the Malaysian island. If you want to escape Penang is the right one for you. Known as the "Pearl of the Orient," Penang is a melting pot where history, tradition, and modernity combine to create a one-of-a-kind destination. In this guide, we'll explore Penang's rich history, top attractions, and culinary scene to help you plan your perfect escape to this enchanting island.
A Brief History of Penang
The Founding of George Town
Penang's history dates back to the late 18th century, when the island was discovered by Captain Francis Light of the British East India Company in 1786. Light chose to build a settlement on the northeastern coast and named it George Town, after King George III of Great Britain. The settlement quickly became an important trading port due to its strategic location in the Straits of Malacca.
The establishment of George Town marked the beginning of a new era for Penang. The island, which had previously been a quiet fishing village, was transformed into a bustling center of commerce and industry. The British brought in Chinese and Indian laborers to work on the plantations and in the tin mines, which helped to fuel the island's economic growth.
Penang's Role in British Malaya
Under British rule, Penang flourished as a center for trade, shipping, and agriculture. The island's population grew to include a diverse mix of ethnic groups, including Chinese, Malays, Indians, and Europeans. This multiculturalism shaped Penang's unique identity and contributed to its vibrant arts and culture scene, which still thrives today.
Penang was also an important center for education during the colonial period. The British established several schools and colleges on the island, including the prestigious Penang Free School, which is still in operation today. Many prominent Malaysian leaders, including Tunku Abdul Rahman, the country's first Prime Minister, were educated in Penang.
Modern-Day Penang
Penang gained independence from Britain in 1957 and became part of the newly-formed Federation of Malaya. Since then, Penang has continued to develop rapidly, emerging as a major economic and tourist hub in Malaysia. Today, the island is home to nearly two million people and attracts visitors from all around the world, drawn by its rich history, natural beauty, and culinary delights.
Penang's cuisine is renowned throughout Malaysia and the world. The island's street food is particularly famous, with dishes like char kway teow, laksa, and nasi kandar attracting foodies from far and wide. Penang's food culture is a reflection of its diverse population, with Chinese, Malay, and Indian influences all contributing to the island's culinary heritage.
Penang is also home to a thriving arts and culture scene. The island hosts several festivals throughout the year, including the George Town Festival, which showcases local and international artists in music, theater, and visual arts. Penang is also home to several museums and galleries, including the Penang State Museum and Art Gallery, which houses a collection of artifacts and artworks that tell the story of Penang's rich history and culture.
Your Guide to Penang
Getting to Penang
By Air
The easiest way to reach Penang is by air, with direct flights to the island's international airport from major cities in Asia and beyond. Upon arrival, you can take a taxi or bus to reach your hotel or start exploring.
By Ferry
For a more scenic option, you can take a ferry from the mainland to Penang, which takes about 20 minutes and offers stunning views of the island's coastline. Ferries run throughout the day and night, making it easy to fit into your travel plans.
By Road
If you're already in Malaysia, Penang is well-connected to the rest of the country by road. You can take a bus or drive yourself to the island via the Penang Bridge or the Sultan Abdul Halim Muadzam Shah Bridge. Keep in mind that traffic can be heavy, especially during peak travel times.
Top Attractions in Penang
George Town's UNESCO World Heritage Site
One of the top attractions in Penang is George Town's UNESCO World Heritage Site, a living testament to the island's rich history and multicultural heritage. Here, you'll find a maze of narrow streets lined with colorful shophouses, temples, museums, and galleries that showcase the distinctive Peranakan culture.
Stroll along Armenian Street to browse traditional handicrafts, sample local snacks, and marvel at the street art that adorns many of the walls. Don't miss the iconic Clan Jetties, a series of stilt houses built over the water by Chinese immigrants over a century ago.
Penang Hill
Escape the hustle and bustle of the city by taking a trip up Penang Hill, the highest peak in Penang. The scenic railway ride takes you through lush jungle scenery and offers breathtaking views of the island and the sea beyond. At the top, you can explore the gardens, temples, and colonial-era bungalows that dot the hillside.
Kek Lok Si Temple
For a glimpse of Penang's spiritual side, head to Kek Lok Si Temple, one of the largest Buddhist temples in Malaysia. The temple complex is a blend of Chinese, Thai, and Burmese architecture, and features a towering seven-story pagoda, serene gardens, and ornate statues of the Buddha and other deities.
Penang National Park
Nature lovers will enjoy a visit to Penang National Park, a protected area that encompasses pristine beaches, dense rainforest, and a variety of wildlife. Take a hike along one of the park's trails and keep an eye out for monkeys, squirrels, and tropical birds. Or, rent a kayak to explore the park's coastal waters and hidden coves.
Penang's Culinary Scene
Must-Try Local Dishes
No visit to Penang would be complete without sampling some of the island's amazing food. Penang is renowned for its street food, which blends Malay, Chinese, and Indian influences to create a unique fusion cuisine.
Some must-try dishes include char kway teow, a stir-fried noodle dish with prawns, bean sprouts, and egg; nasi kandar, a rice-based meal with meat or fish curry and a variety of side dishes; and assam laksa, a fish-based soup with noodles, tamarind, and chili.
Best Hawker Centers and Food Courts
Some of the best places to sample Penang's street food are its hawker centers and food courts. These vibrant open-air markets are bustling with activity and offer a wide range of dishes at affordable prices. Popular options include Gurney Drive Hawker Center, New Lane Hawker Center, and Red Garden Food Paradise.
Fine Dining Options
For a more upscale culinary experience, Penang also has plenty of fine dining options. Many of the island's top hotels and resorts have their own restaurants, offering international and local cuisine prepared with the highest standards of quality and presentation.
Whether you're a budget traveler or a luxury seeker, Penang's culinary scene has something for everyone. So, come with an empty stomach and an adventurous spirit, and prepare to be wowed by the flavors and aromas of this amazing island.
Best Places to Eat in Penang
Gurney Drive Hawker Centre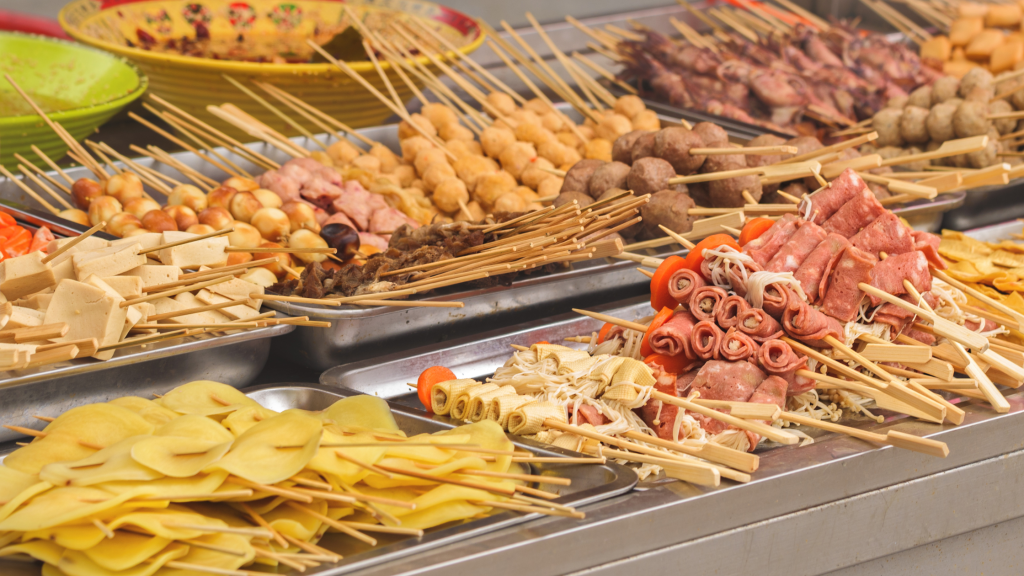 A famous spot for street food, offering a wide variety of local dishes like char kway teow and laksa, Gurney Drive Hawker Center in Penang is a bustling open-air food paradise known for its vibrant atmosphere and mouthwatering street food. 
Here, you can immerse yourself in a sensory feast of flavors, aromas, and colors. From the famous char kway teow and Hokkien mee to satay and rojak, the hawker center offers a wide variety of local delicacies that will tantalize your taste buds. Whether you're a foodie seeking culinary adventures or simply looking for a casual dining experience, Gurney Drive Hawker Center is a must-visit destination for an authentic Penang street food experience.
Nasi Kandar Line Clear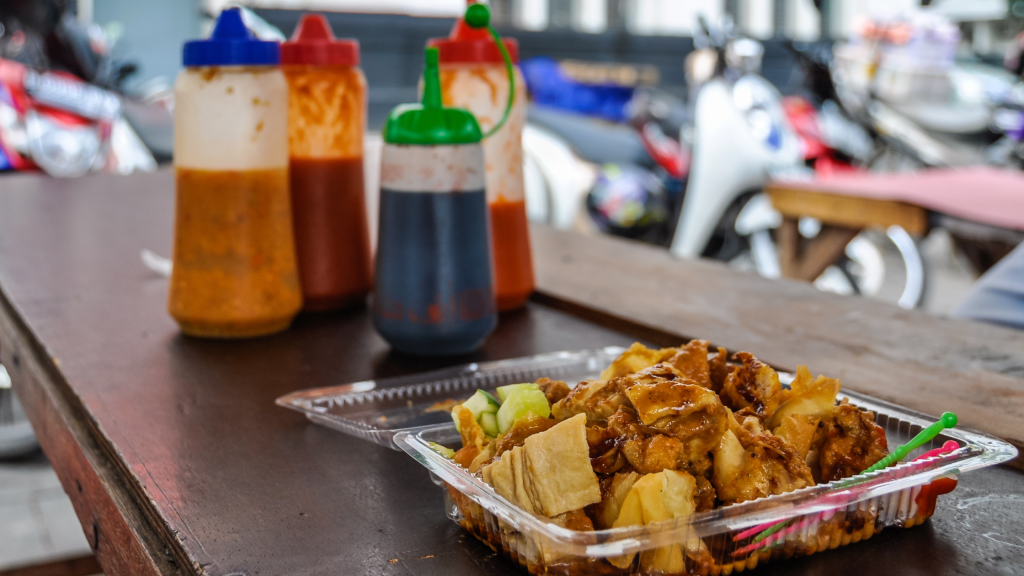 Line Clear Nasi Kandar is a legendary restaurant in Penang, beloved for its aromatic rice dishes and richly spiced curries. This humble eatery has been serving delicious and affordable Malaysian Indian-Muslim cuisine since the 1940s. Step into Line Clear and be greeted by a lively atmosphere and the sight of colorful curries and fragrant dishes. Choose from an array of curries, meats, vegetables, and seafood to create your own plate of nasi kandar, a meal of steamed rice generously topped with a variety of curries and side dishes. Line Clear Nasi Kandar promises a gastronomic experience that captures the essence of Penang's vibrant food culture.
Tek Sen Restaurant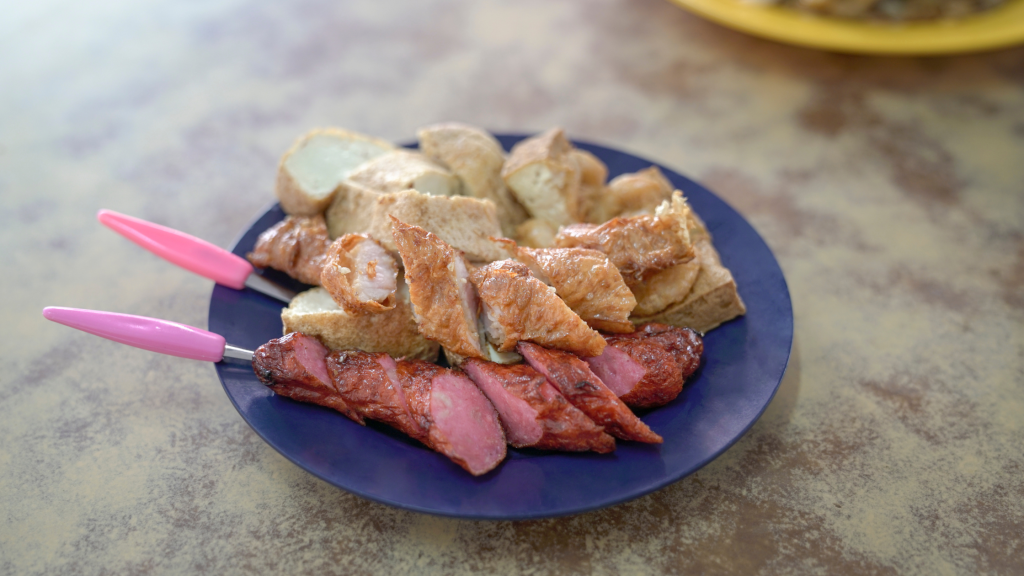 Tek Sen Restaurant is a popular dining spot in Penang, known for its delectable Chinese cuisine and vibrant flavors. With a cozy and unpretentious ambiance, the restaurant offers a menu filled with an array of tantalizing dishes. Indulge in their signature roast pork, which boasts a crispy exterior and tender meat, or savor their flavorful stir-fried prawns. Each dish at Tek Sen is prepared with meticulous attention to detail, ensuring a harmonious blend of textures and tastes. Whether you're a fan of classic Chinese dishes or looking to try something new, Tek Sen Restaurant is a culinary gem that promises a memorable dining experience in Penang.
Penang offers a captivating blend of history, attractions, and culinary delights that make it a must-visit destination in Southeast Asia. From the colonial charm of George Town's UNESCO World Heritage Site to the breathtaking views atop Penang Hill, the island offers a wealth of cultural and natural treasures to explore. But it's the culinary scene that truly sets Penang apart. Whether you're indulging in street food at Gurney Drive Hawker Center, savoring the flavors of Line Clear Nasi Kandar, or enjoying vibrant Chinese cuisine at Tek Sen Restaurant, Penang's culinary offerings are sure to satisfy even the most discerning palates. So, pack your bags and embark on an unforgettable journey to Penang, where history, beauty, and mouthwatering cuisine await.